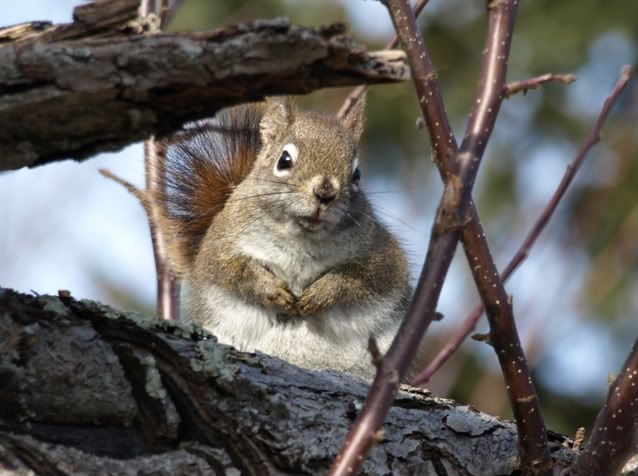 No reason for the squirrel picture, other than one was sitting on my fence chattering at me this morning,and I didn't have time to get my camera. So I'll post this picture I took a couple years ago instead.
I'm starting to think I'm harder on myself during a workout than Shawn is.
After going through my program last night (I decided to work on my legs), I randomly decided that it
wasn't hard enough
because there wasn't a cardio burst in it anywhere. So, in the middle of everything, I just grabbed a couple ten pound weights and ran up and down the stairs half a dozen times.
I think I've gone nuts. (Hey, I found the link to the squirrel!!)
I'm actually kind of proud of myself. I'm learning the difference between working out and pushing myself. Last week I was doing front raises with the dumbbells, and actually managed to push myself to "work to failure" - which is when you go until basically your body just says "No." Last night, I did the same with my calves and my core workout. I was tired, but it was good.
My chiropractic appointments (which I have been so derelict in writing about) have now been scaled back to once a week, and I thoughtfully scheduled this one so that it fell the day after the dog show. Although I find the exercising, weight loss, and chiropractic care has made a huge difference in my ability to withstand dog shows (I'm not nearly so tired and sore after a weekend), standing for 6-8 hours on concrete is still pretty taxing on one's back and neck. Especially when you combine it with four hours of driving. Needless to say, the adjustment yesterday felt fantastic. I know I've said it before, but I am really enjoying the regular chiropractic care. It is partly the improved health, but moreover it's due to the amazing atmosphere of the clinic and staff. From the moment I walk in, I just feel the stress of my day dissipating. And Dr. Mike is phenomenal. He was obviously just meant to be a health care professional; he has an interest in people and their well-being that is so genuine and honest.
Thinking I'll try a run with some sprints thrown in tonight; going to make some inquiries around here and see if there's any harm to taking a "late lunch" and just leaving work an hour early so I can get to to gym early, avoid the rush, and get home a little earlier. It'll also let me try this great new idea I have for a recipe for chicken tetrazzini made with spaghetti squash!
Oh, and on the recipe front - I promised to post this last week and forgot! I stumbled on this and it is OMG so good - almost like a dessert rather than a side dish. And buttercup squash is plentiful around here right now, so if it is where you are, you might want to try it (that's the round one, not the long yellow one).
Baked Buttercup Squash & Apples
1/2 Buttercup Squash
2-3 medium apples
1 tsp brown sugar
cinnamon
nutmeg (optional - I haven't tried it yet, but will next time)
Preheat oven to 400 deg F
Take halved squash and scoop out seeds. Place in casserole dish (I put cut side up, and covered with tinfoil, though I've read elsewhere you can put cut side down) with about 1" of water and bake for approximately 30-35 minutes.
Core apples and either slice or chop into large chunks (DO NOT PEEL - peelings are good for you). Set aside.
Remove squash from oven - it should be soft enough now to allow you to peel it with relative ease. Peeling raw squash is hard and I almost cut my thumb off several times trying it, so I tried this out and it worked much better. If you can prepare raw squash, you have my admiration. You can probably figure out your own way to make this. Peel squash and either cut into chunks or slices (depending what you did with apples.
After draining water from casserole dish, toss apples and squash together in dish. Sprinkle with brown sugar and add cinnamon and nutmeg to taste. Toss to mix well. Cover with tinfoil and bake for additional 30 minutes or so or until squash is soft. (If it's slow to finish, five minutes in the microwave will finish it off as well).
Take out and serve! Will also keep for a couple days in the fridge in a sealed container.
This is quite possibly my new favourite dish. I love it with chicken, brown rice, and green beans or broccoli. Yum.